Quilt Show - 2020
---
Event Instructions
All quilts for the Main Show section must be completed quilts, with a permanent label (sewn, embroidered or written with permanent ink) on the back of the quilt. All quilts 60x60 or larger must have a sleeve! Quilt Show set-up and quilt delivery will be March 27, 2020 from 10:00am to noon.
Register Online
Please use the form below to register for the upcoming Quilt Show - 2020.
We're sorry, but the registration deadline for this event has passed.
---
Please
contact us
if you would like to inquire about this event or another event that the guild will be putting on.
Event Information
Event Date: Mar 28, 2020
Event Time: 9:00am - 3:00pm
Location:Canton High School Gymnasium
Registration Deadline: Mar 15, 2020

Additional Information
We will have a Bedturning at the Show at 10:30 and at 1:30.
Attendees can vote for their favorite quilts in 14 different categories.
Several quilts will be donated by the Guild. These will be on display throughout the event.
Quilt for Raffle
Raffle tickets are $1.00/each or 6 for $5.00 and can be purchased from any guild member. Drawing to be done at the July 9, 2020 guild meeting.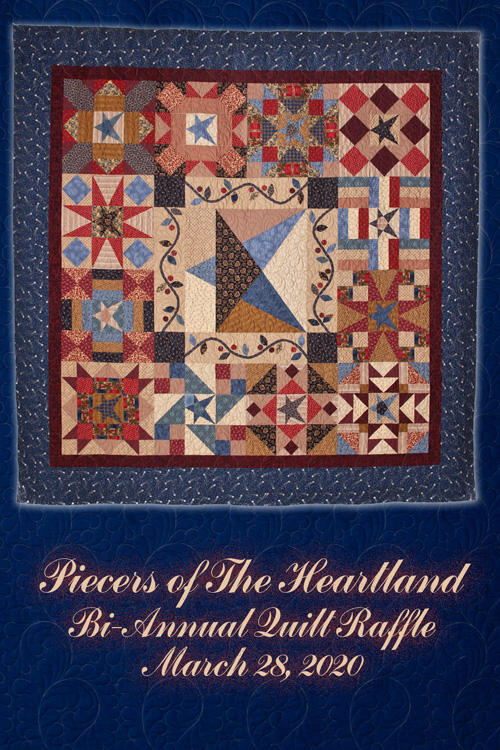 ---
This quilt pattern is from a book titled Women of Grace and Charm: A Quilting Tribute to the Women Who Served in World War II. This book was written by Barb Adams and Alma Allen. 12 blocks make up the Women of Grace & Charm quilts. *"Each block was designed in remembrance of women, who with grace and charm served their families, community and country during WWII. The inner strength and stamina exhibited by these remarkable women, as they or their husbands, fathers or sons left for overseas during the war must not be forgotten. A central pieced star unites the quilt blocks. Just as the blue five-pointed star was placed in the window when a family member left for service, this star in the center of each block is a salute to the contributions and service of these women during this time." A total of 350,000 women would serve in the U.S. armed forces during World War II.
The quilt was made and donated by Paula Hoffmann. Her aunt served as a nurse during World War II. Note the beautiful needle-turn applique work in the center panel.
This quilt is called "Salute", on of a series from the book. The quilting pattern is Abundant Feathers. the thread choice used is Lone Wolf (light tan). The finished quilting date was December 4, 2019 by Patches & Piecework Quilting (sisters Janet Rauch and Cherri Allison) in Macomb, IL. Not including the piecing stitches and the hand applique, there are 279,731 machine quilting stitches in this quilt! The size is 90 inches by 90 inches.
(*Excerpt from the book)